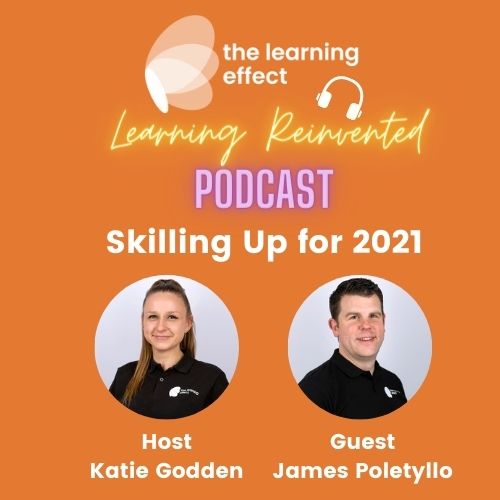 Welcome to first edition of the Learning Reinvented podcast in 2021, brought to you by The Learning Effect Team.
In this episode host Katie Godden will be interviewing her co-host James Poletyllo. James will be looking at one of the predicted trends in learning for 2021. He will be discussing the focus on skills of the future and why and how this should be on the agenda for learning teams.
The Learning Reinvented Podcast aims to bring a variety of new and different voices to talk about the current and future state of learning at work. We want our conversations to be though provoking, useful and real world. We appreciate your thoughts and feedback to help achieve this.
About The Learning Effect
The Learning Effect's vision is to help companies create purposeful, consumer grade learning experiences which help you deliver your business goals and your team realise their potential. If you are looking to change how your companies learning or look new learning technologies we should be your first call.
To help learning professional improve their practice, The Learning Effect Community which is a platform for learning professionals to collaborate and share best practice. Click here to register. 
About the Host - Katie Godden
Katie is one of the founding directors of The Learning Effect.
With over 10 years experience in the learning industry within a number of different sectors, Katie is now focused on helping organisations transform their learning offering. 
She is passionate about creating learning journeys in the workplace which replicate how we learn in our lives outside of work.
CONTACT METHOD
LinkedIn: https://www.linkedin.com/in/katie-godden-015661120/
Website: https://www.thelearningeffect.co.uk/
Email: info@thelearningeffect.co.uk
About the guest - James Poletyllo
James is one of the founding director's of The Learning Effect.
With 20 years experience of leading learning functions in a variety of industries he is now focussed on helping organisations create consumer grade learning experiences which deliver results and performance.  
He is passionate about making a difference and is on a mission to change the future of learning at work for the good of every employee.
CONTACT METHOD
You can follow and connect with James via:
LinkedIn: https://www.linkedin.com/in/jamespoletyllo/
Website: https://www.thelearningeffect.co.uk
In this episode James refers to two pieces of research by the World Economic Forum and Degreed, links to these can be found below:
Degreed State of Skills Report