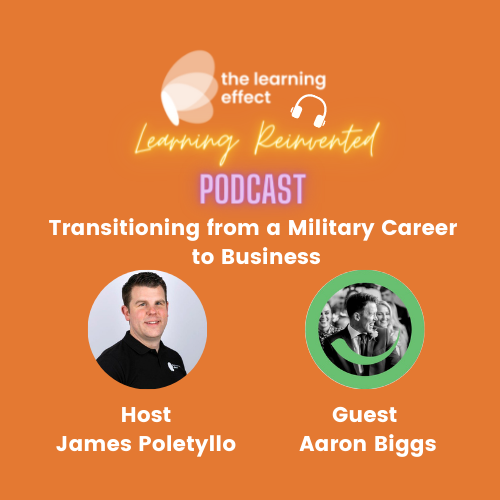 Welcome to another edition of the Learning Reinvented podcast, brought to you by The Learning Effect Team.
In this episode host James Poletyllo speaks to Aaron Biggs. Aaron is an ex Royal Naval Officer who is now forging his way in the world of commerce. He joins us to talk about transitioning skills and transferrable skills, something which is relevant to all industries. He also shares thoughts on what can be done to best maximise the potential of ex military personnel. 
The Learning Reinvented Podcast aims to bring a variety of new and different voices to talk about the current and future state of learning at work. We want our conversations to be though provoking, useful and real world. We appreciate your thoughts and feedback to help achieve this.
About The Learning Effect
The Learning Effect's vision is to help companies create purposeful, consumer grade learning experiences which help you deliver your business goals and your team realise their potential. If you are looking to change your companies learning or for new learning technologies we should be your first call.
LinkedIn: https://www.linkedin.com/company/the-learning-effect
Website: https://www.thelearningeffect.co.uk
Instagram: @thelearningeffect_uk
About the Guest – Aaron Biggs
Aaron is a people centric leader. Currently working as Chief Operating Officer at Tahdah Verified Ltd where he is helping the team build and grow their platform and customer base. Aaron moved to this role having built a successful military career having qualified as a Royal Naval Officer. His Naval career took him across the world working on both ships and submarines. He is passionate about helping unlock the skills and potential of others.
CONTACT METHOD
To connect with Aaron
Website: Welcome (tahdah.me)
LinkedIn: (1) Aaron Biggs GCGI CMgr | LinkedIn
About the Host - James Poletyllo
James is one of the founding director's of The Learning Effect.
With 20 years experience of leading learning functions in a variety of industries he is now focused on helping organisations create consumer grade learning experiences which deliver results and performance.  
He is passionate about making a difference and is on a mission to change the future of learning at work for the good of every employee.
CONTACT METHOD
You can follow and connect with James via:
LinkedIn: https://www.linkedin.com/in/jamespoletyllo/
Website: https://www.thelearningeffect.co.uk
Email: james.poletyllo@thelearningeffect.co.uk