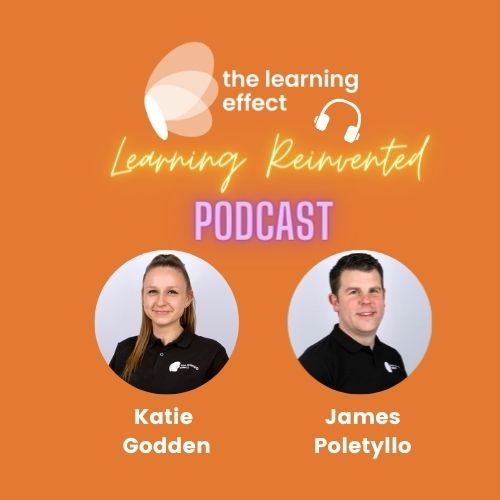 Welcome to another edition of the Learning Reinvented podcast, brought to you by Katie Godden from The Learning Effect.
In this episode we speak to Leigh Maxfield who is a L&D Consultant with over 10 years in L&D within a variety of industries. Back in June 2020, he started a new role during the first UK lockdown and shares his experience and more with us.
The Learning Reinvented Podcast aims to bring a variety of new and different voices to talk about the current and future state of learning at work. We want our conversations to be though provoking, useful and real world. We appreciate your thoughts and feedback to help achieve this.
About The Learning Effect
The Learning Effect's vision is to help companies create purposeful, consumer grade learning experiences which help you deliver your business goals and your team realise their potential. If you are looking to change how your companies learning or look new learning technologies we should be your first call.
To help learning professional improve their practice, The Learning Effect Community which is a platform for learning professionals to collaborate and share best practice. Click here to register. 
Our Guest This Week - Leigh Maxfield
Leigh has 10 years' experience within Learning & Development in a range of different sectors from Food & Beverage, Theme Parks, Hotels and Utilities! In his roles he's worked on some very exciting projects ranging from launching a global LMS and commercial career paths to being part of the opening training team for iconic attractions (and even the UK's first Rollercoaster Restaurant!). This all started with Leigh, aged 16, serving hotdogs out of a window at Alton Towers! Leigh believes learning should be accessible, relatable and useful for everyone. This has been his guiding principle throughout my career.
CONTACT METHOD
You can follow and connect with Leigh via:
LinkedIn: https://www.linkedin.com/in/leigh-in-learning/
Blog: https://leighinlearning.wordpress.com/
About the Host - Katie Godden
Katie is one of the founding directors of The Learning Effect.
With over 10 years experience in the learning industry within a number of different sectors, Katie is now focused on helping organisations transform their learning offering. 
She is passionate about creating learning journeys in the workplace which replicate how we learn in our lives outside of work.
CONTACT METHOD
LinkedIn: https://www.linkedin.com/in/katie-godden-015661120/
Website: https://www.thelearningeffect.co.uk/
Email: info@thelearningeffect.co.uk